Designers & Agents: LA's coolest fashion tradeshow
Hi lovelies,
Taking place in Downtown LA's coveted fashion district from October 13th-15th, the Designers & Agents fashion tradeshow was one of the top events to kick-off LA Fashion Week in style. But not to be outdone, we also covered this year's D&A show in New York and you can check out our recap of the event here. The design aesthetic held true to form and there were pretty floral arraignments throughout the show and the design of the show had a pink and purple floral print.
Once I was in the tradeshow, a different kind of print caught my eye, it was the pretty prints of an emerging brand called Porridge. The name of the brand was inspired by a childhood nickname of the designer, who was affectionately called, 'Laura Porridge,' as a child. That playful spirit still translates to the pretty prints on her collection of dresses, tops, and bottoms. All prints are done in-house and the designer takes inspiration from everything from a 1910 tile that she modifies and converts into a print. Her dresses range from $68-88 wholesale and the tops range from $52-68 wholesale, and the entire collection retails for under $200.
I then luckily stumbled across a seas of shoes at the CalaXini booth. Made in Spain, the shoe collection originated out of workers in the field creating shoes out of recycled tires, which is still a part of the mold of the soles of the shoes today. Since fashion follows function, the durability of the shoes quickly became a fashion statement in Spain and the Mediterranean, and are now starting to make waves here in the States. The shoes now come in metallics, glitter, and matte colors, along with a customizable line. The shoes range around $52 wholesale and retails for around $115-125 per pair.
Next up was entering denim heaven at the Kohzo booth. Celebrities like Lenny Kravitz, Clive Owen, and Justin Bieber have all rocked the denim brand. Best-sellers include the Oniyanma, Akatombo, and Shinkai colorways and silhouettes, they are all wholesale for $196. Another best-seller is the Riding Horse that goes wholesale for $247. My personal favorite pair was the leather Samurai that wholesales for $770-1,000 and retails for $3,000 and up.
Breakout fashion installation: French Rebellion
Parisian showroom, French Rebellion, held some of the top emerging brands at the tradeshow. The innovative concept behind the showroom is to bring international designers together and break them into the US fashion market through cultivating their design vision, marketing, press, sales, and branding. There is even an incubator program for select designers to showcase their designs for an extended period of time in their New York showroom.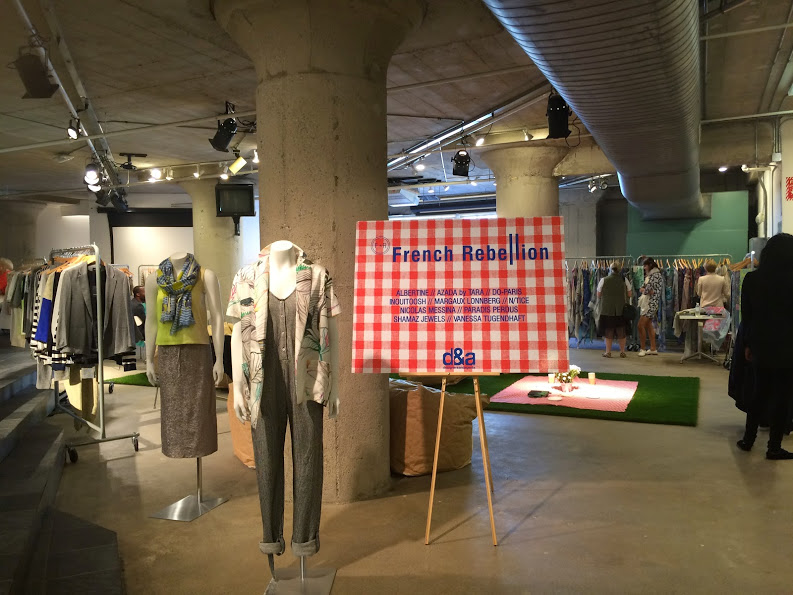 At Designers & Agents, French Rebellion displayed a curated collection of 19 breakthrough designers, some of which included, Albertine, AZADA By Tara, DO-Paris, Inouitoosh, Margaux Lonnberg, N/TICE, Nicolas Messina, Paradis Perdus, and Shazaz Jewels. The French Rebellion team is consists of five partners between New York and Paris, Courtney Daniels, Julia Simon, Stephane Dago, Murielle Bourdette-Menaut and Gilberto Bonelli.
Nicolas Messina: Beyonce is a huge fan of this designer and rocks his customized looks.
Paradis Perdus: The attention-to-detail on every piece in this collection is remarkable.