Beverly Hills Plaza Medi Spa: Diamond Polish with Microneedle Stem Cell Facial
Hi lovelies,
I first fell in love with The Beverly Hills Plaza Hotel & Spa, when one of my best friends stayed at the hotel while on a work trip from San Francisco, and I happily agreed to keep him company in the luxurious, multi-room hotel suite that included a kitchen, a balcony, and access to a heated pool. The décor is immaculate with the customer service to match.
But just when I thought I couldn't love The Beverly Hills Plaza Hotel & Spa any more, I received a very relaxing and therapeutic Diamond Polish with Microneedle Stem Cell Facial, with the esteemed medical esthetician, Jeanie Bryant, at the hotel's Medi Spa. Based on this lovely experience, which was courtesy of Gilt City L.A., my love affair with the decadent yet welcoming hotel only deepened.
When I entered the spa, I was greeted by the beautiful Malia, who talked me through the entire procedure for the facial, so I immediately felt at ease and knew what to expect. Next, I was treated to a pre-facial relaxation time in the steam room after getting comfortable in a spa robe and removing my make-up with the complimentary facial cleanser.
Now it was finally time to experience the Diamond Facial and since I'm always on-camera, it's never been more important for me to make sure that my skin is clear, healthy, and glowing. My problems areas included breakouts due to pollution and hormones and the removal of acne scars. Luckily for me, the Diamond Facial would help me achieve my skin goals and more. It should be noted that the facials work best as a series and it's best to book a package with multiple sessions that you can go-to every 2-3 weeks for long-lasting results.
BEFORE & AFTER PHOTOS:
AFTER A SERIES OF FACIAL TREATMENTS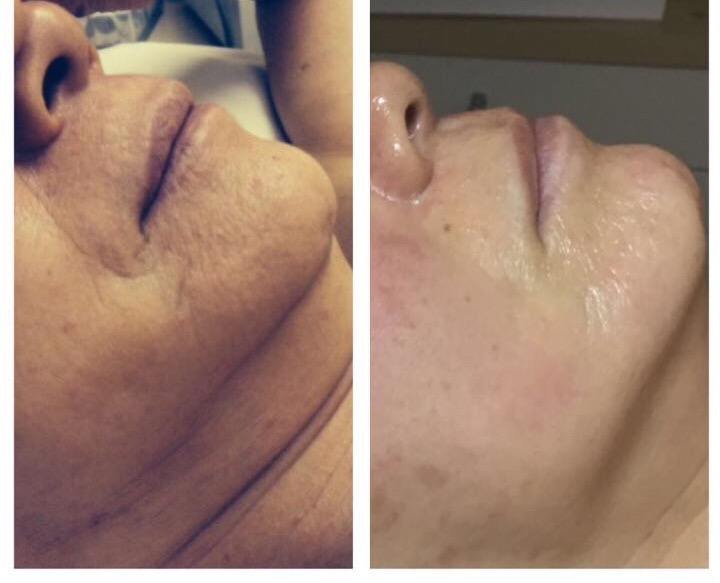 During the Diamond Facial treatment, I relaxed in a NASA-approved infrared bed where I was burning up to 600 calories every 30 minutes while removing tension in my neck and back. The technology behind the Diamond Facial is microneedling that was created by Dr. Fernandez, a plastic surgeon that won 'Innovator of the Year' during the year that he debuted microneedling.
Although microneedling might sound intimidating, the experience was extremely relaxing and pleasant. Prior to the microneedling, which is the process of tiny vibrating shallow microneedles creating 13,000 invisible micro channels that activate collagen creation in the face, Jeannie applied a numbing cream to my face to alleviate any discomfort due to the pressure of the microneedling.
What I found to be super impressive about the treatment is that you can see up to a 90% improvement in acne scarring and acne when you complete just 8 treatments in a series. At the core of microneedling is the process of rebooting your body's own ability to repair itself and stimulate collagen regrowth by the safe and effective thickening of the dermal layer. This results in healthier, younger looking skin.
So if you're like me, and need flawless skin, with or without make-up, then it's time to invest in a facial treatment series accompanied by skincare products by ZO by Dr. Zein Obagis. The treatment regiman allows for 90% penetration of the human derived stem cells that gives your face the boost it needs to create clean and clear skin. For rates, series packages, and products, call 310.275.6185 for details.